With the addition of our new BK Honeycomb Trays and Pegs we can now offer a Total Porcelain Firing Solution for all types of restorations. Using our Fiber-Free Tray Liner, Insta-Peg Refractory Material and BK Honeycomb Trays you can fire any type of restoration safely and securely.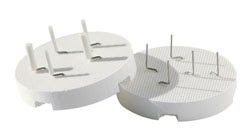 Our Fiber-Free Tray Liner has become a must have accessory that is used on all firing trays, for all firing cycles. It can be used with all firing pins, posts, pegs and you can even place restorations directly on the Fiber-Free without the fear of the porcelain sticking to the tray or the worry of getting fibers in the porcelain or metal. It ensures that even should your restoration tip, droop or otherwise touch the tray, you won't suffer catastrophic damage from the porcelain fusing to the tray.
Whether you are firing a veneer, several single units or a long span bridge you can easily customize our BK Honeycomb Trays & Pegs to suit your needs. The wire pegs can easily be bent or shaped to fit your specific case, and using thin wire pegs is the preferred method for all-ceramic cases. In addition to the wire pegs we offer a set that comes with 5 ceramic sleeves for stable firing of all types of PFM cases. These trays will outlast the competition due to their durable construction, including the use of highest quality ceramic material to produce the trays.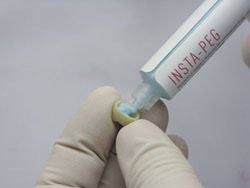 The last component to our Total Porcelain Firing Solution is our Insta-Peg Refractory Material. This product has numerous uses, but the two things it does extremely well is to create custom pegs and also to stabilize existing pegs. It can be used with or without pegs, and works great with veneers or other restorations that will not work with standard pegs. Insta-Peg does not require drying time, will not contaminate or distort the firing and is easily cleaned up.
Used together these products can help ensure that your porcelain firing process is a simple as possible, while ensuring predictable results.