Quickcheck Indicating Spray
08/14/2009
Quickcheck has been helping dental professionals create precision restorations for nearly 20 years with its wide ranging uses from the model room, to metal finishing and even with today's advanced zirconia milling systems.
Quickcheck helps dental technicians and dentists check the fit of crowns, bridges, partial dentures and other dental restorations. It's ability to act as a contact indicator, showing where two objects touch, is its key strength. Typically it is used in areas that can't be seen, like the interior surface of a crown or under a clasp, to find unwanted contact points. Once these areas are identified they can be modified as desired.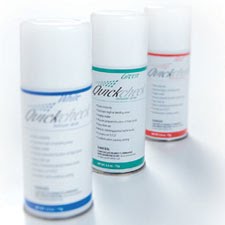 Using our simple "Spray-Seat-Check" procedure helps avoid ill fitting restorations, plus it can help avoid remakes and wasted chair time. But there is more to Quickcheck than just achieving a perfect fitting restoration. Quickcheck's proprietary formulation makes it perfect for many other uses, on virtually any type of material, throughout the restorative process.
Recently Quickcheck White has become recognized as one of the most accurate, as well as cost effective scanning sprays for CAD/CAM systems. In fact, many manufacturers recommend the use of Quickcheck in lieu of more expensive options. Its simple application procedures, consistent layer thickness and easy cleanup make Quickcheck a great choice for your scanning needs.
But its usefulness does not stop there, Quickcheck has many other uses. Some of the more popular uses include:
Adjusting Interproximal Contacts
Locating Undercuts
Adjusting Wax-Ups
Precision Modification to Implants & Attachments
Highlighting Contour Lines
Occlusal Verification
Equilibrating Models
Temporary & Surgical Stints
Locating Sore Spots on Dentures
The list of uses is expansive and there are a countless number of other uses. Whether you work with fixed or removable restorations, Quickcheck can help you ensure your work is precise and accurate. With so many uses, in so many areas, on so many materials, shouldn't you be using Quickcheck?