New Double Dowel Pins
03/28/2010
We are pleased to announce the release of our new BK-Medent Double Pin System - consisting of a precision dual dowel pin, plastic sleeve and rubber end caps.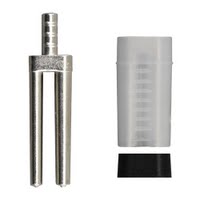 The BK Double Pin System is ultimate dual dowel pin - achieving stable and accurate removable dies, while eliminating undesirable rotation. It gives laboratories all the benefits of a two pin system, while maintaining an easy to use pinning procedure. Requiring only one drill hole per pin, the Double Pin is perfect for all model work, posterior and anterior. It has a compact profile and tapered design that allows for trouble free positioning, even when space is limited.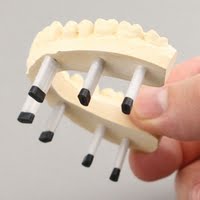 The dual dowel pin is precisely fabricated in order to deliver consistency and a perfect fit in the drill hole. The plastic sleeve incorporates exterior retention grooves to keep it firmly in place when the dies are removed from the base. The rubber end cap offers stability while the base is being poured. When removed, the pins are revealed, eliminating the need for a dowel pin bur.
Pins glide evenly in and out of the sleeves due to short friction zone
Zero abrasion of base stone eliminates the chance of die movement
Asymmetrical pins eliminate reverse placement of dies
Narrow profile is ideal for positioning in limited space
Use with standard pin drills
To get you started we are offering an introductory price of $95 per box of 1000. If you want to try it before you buy it then you can head over to our Sample Request page and we'll send a trial package out to you with enough pins for preparing several models. Once you try them we are certain you'll be back to place an order.