Achieve the highest levels of consistency
11/22/2012
For over 11 years Z4 Universal Investment from N&V Belgium has been delivering high quality, consistent results to dental laboratories around the world. And when it comes to casting alloy or pressing all-ceramics the key to increased productivity is an investment that delivers the highest levels of consistency.
In today's market there are a lot of choices when it comes to investment. Every company seems to sell an investment with a different name, but buyer be very aware. Chances are they don't make their investment and possibly don't even know who does. If they don't make their investment then they don't really understand their investment. This is where N&V Belgium excels, and where they outperform the competition. They understand dental investments better than any other company, so they know what it takes to make their product perform to the highest standards day after day.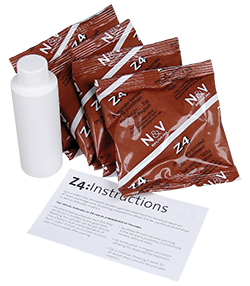 N&V was the first company to introduce a "rapid cast" investment - call it shock heat, high speed or fast cast they were the first. Where they blazed a trail others soon followed, but they followed with products that fell short of being true "rapid cast" investments. What N&V developed, is what no other company has been able to replicate. Their development allowed a casting or pressing ring to be invested, then any time after the necessary bench set the ring could be placed directly into a hot oven.
What this means is that it can sit on the bench for 1 hour, 1 day, 1 week, 1 month, 1 year and still be placed directly into a hot oven - without any special procedures like re-wetting or putting the ring into a sealed bag. This might sound like a gimmick, but it is actually an important characteristic. It is important because in a real world environment standing over a ring and waiting for 15 or 30 minutes to pass is not feasible. And with other investments if you go past a certain time frame you run the risk of a ring exploding or getting inconsistent expansion.
In fact in 2004 we wrote an article to explain what the benefits of a true rapid cast investment were, and how they could offer value to any dental laboratory. The arguments still hold true today.
View our article about the benefits of a true rapid cast investment
We could go on at great length about the other benefits of Z4, and in future posts we probably will. But for now all we can say is what does it hurt to give it a try? We'll be happy to send you a free sample. Sure, it is tough to prove consistency with a sample, but we know you will like the results and want to pick up a box. And once you have used the product for a few weeks you'll start to experience true consistency and see how it can benefit your laboratory.
So head over to our Sample Request Page and send us your info. It's one choice you won't regret.