Time to bring Z4 Investment to your lab?
10/05/2013
Tired of fighting with your investment material? Are you constantly changing your liquid ratios to get an acceptable fit? Does it seem like you need a jackhammer to devest your castings and pressings? Maybe it is time you give Z4 Universal Investment a try.
Whether you are looking for a better solution with your pressable ceramics or for your metal castings, Z4 is the only investment you will ever need. It has been designed to meet the demands of today's dental laboratories, with more built-in flexibility than any other material. Z4 is manufactured by the pioneers at N&V Belgium under stringent guidelines using only the finest raw materials.
Total expansion control
No two labs are the same, and there are even different requirements within individual labs. Keeping this in mind Z4 was developed to allow technicians to easily control the fit of the restoration. Consistent expansion from box to box, batch to batch make it even easier to achieve the desired results.
Invest with ease
Once Z4 has been mixed it has a fluid consistency that makes investing multiple rings a simple task. With little or no vibration rings can be poured without the fear of air bubbles. It also delivers ample working time so technicians are not forced to rush the process.
Burnout procedures on your schedule
Z4 is a real rapid cast investment. This means after the necessary bench set the ring can sit for hours, days or even longer before being placed directly into a hot furnace. No re-wetting the rings, no having to store it in a bag and definitely no having to stand over the ring with a stopwatch for fear of an explosion in the burnout furnace.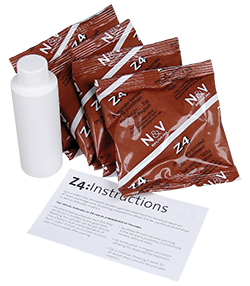 Devesting made easy
When you use Z4 Universal Investment you'll find that devesting becomes a simple process. Whether you are breaking out a casting or pressing, excessive sandblasting is not only time consuming but can potentially cause damage to your restorations. High pressures and abrasive materials can destroy margins. With Z4 those worries fade away because breakout is clean and fast, requiring minimal blasting.
Be sure to request your free sample today and see first hand all the benefits Z4 has to offer. Be sure to check out our Z4 Quick Start Guide for some helpful tips.