Don't trust your V-40 with just anyone
10/02/2016
Our goal is to help dental laboratories get as much life as possible out of their Schick and Microstar Handpieces. That's why it is discouraging to see some of the damage that ill-equipped repair shops do to these handpieces.
Just the past week we worked on two V-40 handpieces that had been repaired by another company. We could tell before we even dismantled the handpieces that they had been repaired by someone who did not know what they were doing. Among other problems they ran hot, were loud and we could barely twist the chuck open. Once we dismantled the handpieces here is what we found.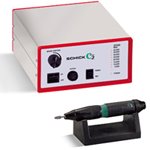 They had used low quality bearings that were not an exact match for the OEM bearings.
- The mismatched size will immediately lead to poor performance, increased vibration, increased noise and can cause long term damage. As far as the quality - not all bearings are created equal and these low quality bearings have a very short lifespan.
They had used a "modified" chuck from a different manufacturer.
- No, we are not joking about this. They had ground down the sides of a chuck that was too large to make it narrower so it would fit in the V-40.
Many of the parts were reinstalled in the incorrect orientation or in the wrong order. Even worse, in one of the handpieces we found "extra" parts that had been installed.
There is not much we can say about this, but this is very typical. We've had this happen on many occasions and it is a clear case of someone that does not know what they are doing so they "engineer" a so called fix.
While much of this seems almost comical, we can assure you that the owners of the handpieces were not laughing. And rightfully so as it ended up being an expensive repair. Due to the extra wear and tear that was caused we had to replace additional parts that had been damaged.
At Vacalon we are able to repair your equipment right the first. So don't cost yourself more time and money by trusting your handpiece with someone that does not know what they are doing. For more information and to download a repair request form please visit our website or contact us.