Choose Vacalon Disposable Plungers
05/05/2015
Not only do Vacalon Disposable Press Plungers offer an easier pressing process, they do it while delivering better results and providing a more cost effective solution than alox plungers. Short presses, split rings, contamination and cracked ceramic material are a few of the problems you can eliminate when you use our disposable plungers. That's why we say it just makes sense to choose Vacalon Disposable Press Plungers.
Cleaning takes time, and time cost money.
Reusable plungers have to be soaked in acid, then require a laborious process to finish cleaning them. Even after the lengthy cleaning process is complete you might be left with a plunger that is misshapen or still has residual material left on it. This can lead to contamination and mis-presses that cost time, money and materials.
Choose disposable and choose wisely.
Only Vacalon Disposable Plungers are designed and manufactured to perfectly replicate the shape, size, length and other desirable characteristics of alox plungers. With their superior design Vacalon Plungers can deliver successful pressing after successful pressing. On the other hand, whether it is because they are too small, too big, too short or too long other brands of plungers can deliver undesirable results.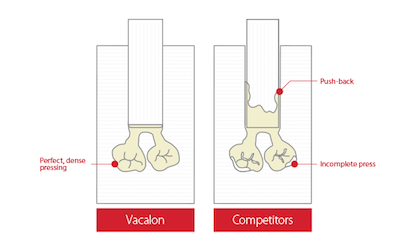 We also have you covered regardless of what type of pressable system your work with. We feature four different size plungers, including:
If you're not sure about making the switch to disposable plungers the best way to get convinced is to give them a try. As always, we make it easy to get samples of our disposable plungers by simply completing our Sample Request Form. If you are unsure what size you need just contact us and we'll make sure to get you the right fit for your needs.