Our Schick Certified Repair Center technicians are trained to work on all equipment manufactured by Schick, including the American version of the well known C2-Profi - the V-40 handpiece.
With thousands of units sold over the past 20 years, there is a chance you have one in your laboratory or office. And like Schick's newer C-Master Series handpieces, the Microstar® V-40 was designed to last many years with proper maintenance.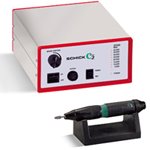 To help extend the life of your handpiece we've compiled a list of things to look, and listen for, that can save you time, money and possibly a major headache.
1. If your rotary tools are slipping, or your twist grip starts to feel loose it might be time to replace your chuck. This is one of the most common things we see and it is something you can easily complete yourself. First, you'll need to purchase a new chuck, which can be found here - #4114 Replacement Chuck - but you will also need to make sure you have your chuck tools.
The tools can be confusing, as there are two different models that have been produced. The older, original version had a non-removable nose cone, and it requires a Hold Fast Key and a L Shaped Chuck Key. The current, and most widely sold version, has a removable nose cone and it requires a Hold Fast Key and a Round Chuck Key. You'll find the installation instructions for both models on the #4114 Replacement Chuck page.
2. If your handpiece starts to get loud or run hot it could be one of many things, but the most common problem is that the bearings have become worn out. Over the years we have realized one thing, the sooner you get the problem fixed the better. If you continue to operate your handpiece with worn out bearings you can do additional damage to the shaft and even damage the motor.
This is the type of repair you should contact us to complete, as there are several procedures that must be followed to ensure your handpiece stays in proper balance. It is easy to send in your handpiece for an inspection and free repair estimate. You can find our Service Request Form on our repair page. Simply fill it out and follow the instructions for sending the handpiece to us. In most cases we are able to inspect, and if necessary repair, your handpiece within 24 hours. If you can't afford to be without your handpiece while it is being repaired we can even offer you a courtesy loaner.
3. If your handpiece seems like it is shorting out, it hesitates when you speed up or if it makes a "clicking" noise then it could very well be a malfunctioning motor cable. This is the easiest fix of all as you can simply purchase a Replacement Cable. However, and we can't stress this enough, if you continue to operate your handpiece with a defective cable then it will destroy the PC Board inside the control box. (Repair cost = $400+)
Awkwardly positioning the cable, or bending it sharply for long periods of time can cause the copper to become worn out, and eventually it will break. Even with a broken cable the unit typically continues to run, but with the aforementioned problems. Even though the copper wires are broken they continue to make contact with one another, but as the cable is stressed the copper will pull apart, breaking the connection and causing the short.
A good way to test your cable for a short is to set the motor to run at about 10,000 rpm without the foot pedal connected. (This way you don't have to hold the pedal down to make it continue to run. As always, make sure you are wearing eye protection!) Then start to work your way down one end of the cable, bending it gently it all directions as you run it through your hands. If you find a spot that causes it to stop running then you have found your culprit. A new cable can easily fix the problem and avoid further damage.
If you have any questions about your handpiece please don't hesitate to contact us. We are happy to help you troubleshoot your problems over the phone at 800.729.8192 or email us at technical@vacalon.com. We hope these tips will help you get the most out of your equipment and avoid unwanted downtime.