We've been getting a lot of questions about the BK-Medent M-Series Porcelain Palettes since we released them this month, so we thought we would take a minute to explain how they work.
The Ez-SingleM, Ez-MasterM and R-Mixing PaletteM use the same working principles as the Ez-Single and EZ-Master. The main difference is the M-Series trays use a permanent filter as the top working surface.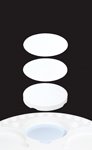 There is a reservoir where the solid ceramic base is placed. The reservoir is filled with distilled water, modeling liquid or a mixture of both. Then to control the moisture levels a special absorption paper is placed on top of the ceramic base, then what makes the M-Series unique is the top layer.
The top layer is a specialized metallic material that has tiny micro-pores. This material is specially manufactured for the M-Series trays. Check out the picture below for a close-up view: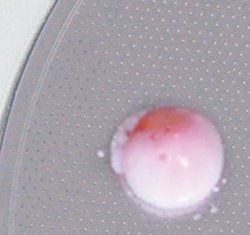 Here are some key points about the special filter:
It will not contaminate porcelain
Cleaning can be carried out with a steamer, so the filter can virtually be sterilized and all residues can be removed very quickly. This greatly reduces the chance of cross contamination of different materials.
Specially manufactured to resist scraping, scratching or flaking
Many people have asked if the special metal filter will contaminate their porcelain. Our answer is a resounding NO WAY.
The material was specially designed for this type of application, with all aspects and variables of daily laboratory use considered. It has been extensively reviewed internally, in laboratory settings and by external testing facilities. In each case it has been shown to be a better working surface than traditional ceramic trays. In addition, these trays are used in over 60 countries worldwide without any problems.
The special filter has many additional advantages over other types of trays and liners.
Can be reused over and over, reducing your cost of ownership by removing a consumable item that must be reordered
Brushes will last longer, as the material is smooth and will not wear out the bristles
Offers excellent moisture control for porcelain with the perfect consistency
We're sure you will enjoy using the EZ-Single M, EZ-Master M or R-Mixing Palette M, and you'll also find them to be a great tool for helping you create the highest quality restorations.
If you have any questions please contact us at sales@vacalon.com or at 800.729.8192.