The BK Stain Palette is designed allow ceramists to have a wide selection of stains available, with wells for up to 17 different shades, plus a mixing area for creating custom shades.
It has a simple, easy to use design, made from a heavy duty plastic and includes a lid that creates a tight seal to keep materials from drying out when not in use. The double shell design gives the BK Stain Palette a sturdy feeling, yet allows users to easily clean the palette by simply placing it under running water.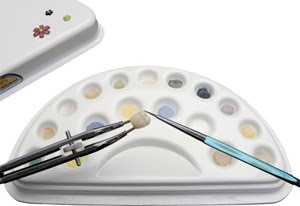 In addition, the price of the BK Stain Palette, less than $30, makes it an affordable addition for any lab and gives users the opportunity to buy multiple trays for different types of stains and modifiers.
Excellent additions to the BK Stain Palette include the BK-Medent Stain Brush Set, the BK-Medent Porcelain Mixing Stick or the BK-Medent Natural Kolinsky or Synthetic Porcelain Brushes.