Using the wrong type of tool to mix porcelain - whether it is on a ceramic, glass or another type of surface can lead to problematic results.
That is why we are happy to present the Zircon Porcelain Mixing Spatula, a great tool for dispensing and mixing porcelain on any type of surface. The blade of the spatula is constructed from a high performance Zirconia material that allows it to be made extremely thin. This gives it the perfect flexibility and elasticity for easy mixing of powders, yet it allows it to retain strength and durability.

The use of Zirconia for manufacturing the blade was also desirable because the material can withstand constant scraping and scratching without leaving behind unwanted residues. The blade is resistant to virtually all types of abrasion. Plus, it will not rust or corrode like metal instruments tend to do.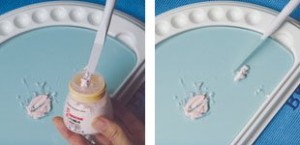 Every detail was considered when designing this tool, even the handle. It makes the spatula lightweight and comfortable to work with, and it even has a flat side that insures the tool will rest securely on the work surface when not in use.
We think this spatula is well worth the investment, as it helps to avoid the possibility of contaminating your materials and makes quick work of mixing powders. Plus, this is a long-lasting instruments you purchase and use for many, many years to come.