From sculpting to dipping to milling and everything in between, our ProLine Waxes cover the entire spectrum of dental work. Formulated with the highest quality raw materials ProLine Waxes deliver user friendly handling qualities and predictable results. Whatever type of tools you use to complete your waxing tasks you can count on ProLine Waxes giving you the flexibility you need.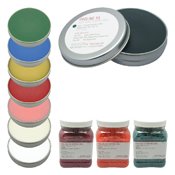 ProLine Waxes can be broken down into 4 main categories:
Don't worry, if you are not sure which wax is right for you simply request our free Wax Sample Kit. The kit includes a wide selection of ProLine Waxes to give technicians the ability to experience the different characteristics each one offers.
In addition to our ProLine Waxes we offer an exciting line of electric waxing devices. This includes the Heating Clear, Art Waxer and the Uni Waxer 3-in-1 waxing device. Be sure to learn more.