The S3-Master from Schick Dental is truly the world's most advanced milling unit. Offering unparalleled capabilities, the S3-Master comes loaded with features and is ready to take on the toughest jobs. With a wide selection of accessories, including the ability to upgrade to a water cooled turbine, the S3 can do it all.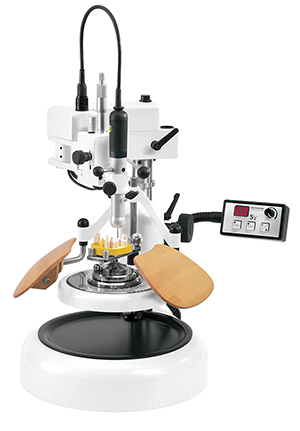 High Capacity Motor
The Schick S3 is powered by C3 motor technology. The powerful motor is quiet running and vibration free. The C3 offers full power throughout the entire speed range, and precise concentricity is guaranteed.
Patented Schick LED Lighting
Schick patented LED lighting gives users an unobstructed view of the work, without shadows or having to position exterior lighting. The LED lighting is seamlessly integrated into the S3 for easy control.
Satellite Control Center
Operations are controlled by the Satellite Control Center, in coordination with the dual foot controls. The ability to control speed, magnetic table, rotational direction and dimming of the LED lighting are easily within reach.
Adjustable Magnetic Table
The work table uses magnetic fixation to keep model holders or other attachments firmly in place. In addition, the table can be raised or lowered with the simple turn of a knob. Just another way Schick makes milling a comfortable, stress free task.
3D Magnetic Milling Arm
Moving in an effortless and uniform manner thanks to ball bearing guidance the 3D arm can be positioned quickly and easily. The built in magnetic fixation allows the user to instantly and securely fix the position of the arm with a simple click of a foot-switch.
We've included a few videos that show the S3-Master in action. Check them out and then give us a call to find out more about the Schick S3-Master.