If you are looking for an efficient way to build porcelain then look no further than BK-Medent's Auto-Mixing Palettes. These ingenious porcelain trays offer an excellent solutions to ceramists looking to use an automatic wetting tray. With their brush-friendly surface and controlled powder moisturizing they simplify the porcelain build-up process.
The BK Auto-Mixing Palettes use a multilayer system that offers many benefits over a single ceramic slab.
More controlled wetting action to keep porcelain at the optimum consistency
A working surface that will not leave brushes frayed and worn out
Easy to disassemble and keep clean
Works with build-up liquid, distilled water or mixture of both
When choosing one of the BK-Medent porcelain trays users have the option of two different working surfaces. The traditional trays use a unique mylar type permeable membrane filter that can be reused many times, but is eventually replaced. While the M-Series trays use a specially developed metallic filter that is permanent and requires only simple rinse with water to clean. The traditional and M-Series trays both use a ceramic base and special absorption paper as the first two layers, it is only the top layer where they are different. We've created a diagram to illustrate how the layers work together.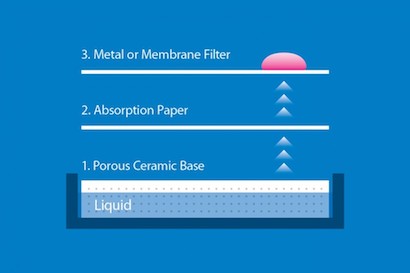 The BK-Medent Auto-Mixing Palettes come in a few different configurations from spacious to more compact. The EZ-Master and EZ-Master M palettes each offer three circular working surfaces, as well as 14 round wells around the top of the palette. The EZ-Single and EZ-Single M are more compact, with both palettes having one circular working surface along with 6 round wells. The R-Mixing M is designed with one large semi-circle working surface and has 16 round wells around the outside perimeter of the tray. Plus, all of the mixing trays come with a tight fitting lid to allow for storage of powders when they are not in use.
If you have any questions about the Auto-Mixing Palettes from BK-Medent just drop us a line.